It's the most wonderful time of the year….except when it isn't.  The Holiday season is marketed to us that we should be joyful and full of anticipation and excitement for all the festivities and the romantic ideas of gift giving and family traditions.  While many of us often do look forward to the Christmas season and all the things that come with it, let us not forget the people out there who are not feeling joyful. This time of year can bring on feelings of depression, remorse, anxiety, stress, and loneliness just to name a few. It's as though there is a longing in the depths of our soul for something we just can't quite put our finger on…
This blog post is not intended to bum you out, but I just wanted to bring some awareness that while there are people out there who are happy, excited and full of anticipation during this time of year, there are also people who are struggling to find their joy. Usually I would write a blog post about fun ways to stay healthy this time of year, but to be honest I am one of those people not really feeling in the Christmas spirit. There just doesn't seem to be enough time in the day to do all the things I want to do.  I am under a lot of stress right now, and admittedly I am tired, and feeling in the dumps. No amount of meditation seems to be keeping the tears and anxiety away.  Alcohol is making a nightly appearance and I have no energy or desire to cook nutrient rich meals, bake Christmas cookies, clean my house, shop or much less workout.
There are many things that have contributed to the state of depression that I am currently experiencing.  Things that I am not willing to share right now.  I will say the amount of stress has really gone up in my household since taking on a full time job.  A job that has nothing to do with my passion and purpose of helping people to live their best lives in a healthy, productive way.  In fact, not only has taking on a full time job raised the stress level in my house it has affected my own health.  It's a little hard to help serve people and encourage them to live a quality healthy life while my own is deteriorating.  I kept trying to white knuckle through the hectic schedule of work, and home life responsibilities.  Not wanting to disappoint or let anyone down even at my own health expense. (my symptoms: headaches, joint pain, digestion issues, crying)
It's truly amazing the things women will bare at the cost of not wanting to disappoint others.  That's a subject for a blog post for another time, but an important one that needs to be brought to the surface and explored.  Thankfully my husband saved me from myself.  He could see that I had lost my sparkle.  I wasn't filling my passion (see above) and that my healthy lifestyle was slipping away quickly.  So he begged  encouraged me to quit my job.  As hard as it was to disappoint my employer I knew I needed to do what was right for me and my family. So I gave my notice, and agreed to stay on until the week before Christmas that allows them time to find a replacement.
While turning in my notice and having a supportive husband has helped to reduce some of the anxiety in which I was experiencing I am still not in my happy mindset just yet.  I don't have any desire to want to shop, wrap gifts, or even do things that I know are "good" for me like working out and eating healthy foods.  So instead of not doing those things or doing them and just going through the motions, I decided to take action, put my energy where it matters and serves me best.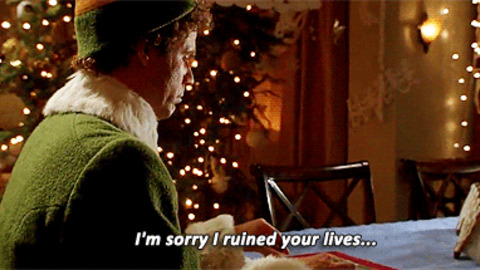 For example instead of feeling like I let people down at work, I focus on all the people I will be helping to find a better approach to their health and mindset goals.
If I feel like having a glass of wine every night, then I have it.  No feelings of guilt or shame associated with drinking the glass of wine.  Same goes with my food choices right now.  If I want to cook and eat vegetables and protein then I do, if I don't feel like cooking and would rather eat  oatmeal or order a pizza then I do. You see, at this moment in my life I need some decisions to be easy.  I know how to eat yummy food that nourishes my body,and there will be a time and a place to make that more of a focus again, but it's not now.
Instead of following a training program that keeps me in the gym for an hour and a half or two, I'm just getting in movement that I feel like doing that day.  Again, I know there will be a season in which I may choose to do more but now less is better.  In fact, while exercise has numerous health benefits, it also adds more stress to the body, so doing the types of exercise that induces more stress to a body that is already maxed out will only raise cortisol levels and reverse any positive affects and induce negative ones.
Being aware of my choices. Taking a moment to pause and ask myself if having another glass of wine is going to help reduce my problems or induce more problems.  Is skipping a workout better for me today? Or is pushing through a tough workout on a body that is exhausted better?  Taking a moment to pause, and think about what I  really want is helpful, and you know what… sometimes that means deciding to drink another glass of wine.
There are times I feel really sad during this Christmas season.  I miss my boys being little and getting excited about all of our traditions.  I lost my grandmother this year, and I miss her as well and I am reminded of our Christmas's when I was little.  I miss my mom who can't be with us this Christmas.  My heart hurts for my boys who are working so hard but feeling tired and drained as well.
This Christmas may not be like the ones in the past.  This year might be rough.  I know there will be many more Christmases that will bring joy and happieness and there will be ones that might bring pain too.  However, like the song "Merry Little Christmas" we just have to muddle through somehow.  That's what I am doing. I am muddling through and doing my best to keep my chin up until the the fog begins to clear and I feel better.
A side note, I am working on some projects that I hope to share with everyone soon.  Focusing on filling my passion and purpose helps to bring some joy and sparkle back into my life.